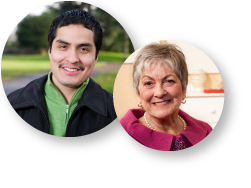 FOR PARTICIPANTS
Thank you for your interest in the Chronic Renal Insufficiency Cohort (CRIC) Study!
The CRIC Study is an important part of a nationwide effort to better understand the substantial increase in chronic kidney disease seen in our country. It is supported by the National Institute of Diabetes and Digestive and Kidney Diseases (NIDDK), which is part of the National Institutes of Health (NIH).
The major goals of the CRIC Study are to answer two important questions:
Why does kidney disease get worse in some people, but not in others?
Why do persons with kidney disease commonly experience heart disease and stroke?
The NIH-NIDDK expresses deep appreciation to all of the CRIC Study participants and all of the CRIC investigators who will make possible this opportunity for the CRIC Study to continue its fight to help people with kidney disease.
Sites' contact information can be found on our website page, Participating Institutions.
Thank you for visiting our site.