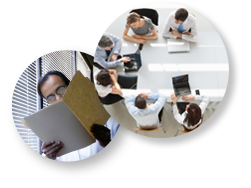 Observational Study
Monitoring Board
An independent group of experts in areas such as nephrology, cardiology, preventive medicine, epidemiology, nutrition, ethics, health economics, and biostatistics who are not otherwise involved in the study have been recruited by the NIDDK to evaluate the proposed protocol for all phases of the CRIC Study and to periodically review the progress of the study.
The individuals listed below are members of the
Observational Study Monitoring Board for CRIC.
Ann M. O'Hare, M.D. (CHAIR)
Associate Professor of Medicine
Division of Nephrology
University of Washington
VA Puget Sound Health Care
Renal Dialysis Unit
David T. Gilbertson, Ph.D.
Executive Director of Epidemiology & Biostatistics
United States Renal Data System
Girish Nitin Nadkarni, M.B.B.S, M.P.H.
Professor of Medicine
Icahn School of medicine at Mount Sinai
Division of nephrology
David Nathan, M.D.
Director, Massachusetts General Hospital
Diabetes Center
Professor of Medicine
Harvard Medical School
Lucila Ohno-Machado, M.D., Ph.D.
Chair, Department of Biomedical Informatics
Associate Dean for Informatics & Technology
University of California, San Diego
Stephen S. Rich, Ph.D.
Director, Center for Public Health Genomics
Harrison Professor & Vice Chair
Department of Public Health Sciences
University of Virginia
Carlos Jose Rodriguez, M.D., M.P.H.
Professor & Vice-Chair for Academic Affairs
Albert Einstein College of Medcine
Peter W. Wilson, M.D.
Emory University School of Medicine
Department of Medicine, Cardiology Division